Starting a landscaping project can be a big investment and increase the value of your home. We are proud to say our customers can come to us with all of their outdoor needs. Our finishing touches are the stand out feature of every complete project. We always finish our projects on time and on budget because we respect our clients' time and money.
Hardscape refers to the solid, hard elements in landscape design that stay the same for years. Some examples of hardscape are rocks, walkways, retaining walls, paver patios, and custom artisan concrete. Hardscape provides textures to help give your yard more of a three dimensional look and a better functional outdoor living space. Whether you are in need of a patio for entertaining or a meandering pathway throughout the yard, we pride ourselves on being the experts in hardscape design.
Creating functional space using patios and walkways is an essential part of a landscape. Walking up to the front door or walking out the back door steps systems, walkways and patios when designed and installed properly add value to your home.
Outdoor structures extend your living space to the outdoors. Whether it's a simple cedar arbour or a fully furnished outdoor oasis with big-screen TV, our design team excels at balancing aesthetics and functionality while providing you with a place for shade, privacy, and comfort. We design and install a complete range of custom Gazebos, Cabanas, Pergolas, Arbors, Sheds, Fences, and Decks in your choice of high quality wood and vinyl materials.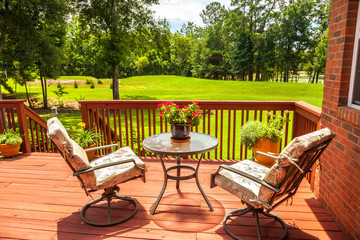 A retaining wall is a structure that holds or retains soil behind it. There are many types of materials that can be used to create retaining walls like concrete blocks, poured concrete, treated timbers, rocks or boulders. Some are easy to use, others have a shorter life span, but all can retain soil.
Add beauty and tranquility to your landscape with a custom water feature. From waterfalls to bubbling rocks, Wild Green Landscaping can design and install exactly what you need.